Who We are
Start Grow Manage is the place for entrepreneurs to get the support they need to build their business. We are entrepreneurs, with decades of experience starting, growing and managing businesses.
The problem we solve
Breaking through the brain's desire to keep you rooted to the three things:
Accountability.
A Team
Tools and templates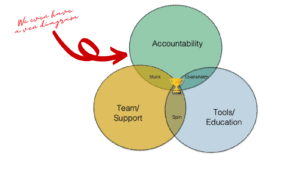 We help you with each of these at a level that works for you.
Our courses and training help you develop your skills with access to tools and templates that keep you from reinventing not just wheels but also the complex machinery that drives a business.
Thrivers360 provides that team and group accountability that early-stage businesses need, and our Platinum Program offers tailored support built around your specific business needs.
Yeah, you start with a subscription, fall madly in love with us, join Thrivers, grow like crazy, and then decide you need personalized support.
That's how it works.
Why We do this
We created Start Grow Manage to help other entrepreneurs avoid the pain of failure that we endured and shortcut the lessons.
We have all felt the sting of failure and thrill of success. We love the entrepreneurial journey and helping you succeed gets us out of the bed in the morning.
Want to KNow How to Get Started?
We are so glad you asked!  (No seriously, this is how we make a living. Without your interest, our children start to look thin and spouses start to look mad.  No pressure though). 
The best place to start is with two free Thrivers meetings.
What, free?  Yep.  Thrivers is 100% completely free for 14 days. You love it you pay. You don't you, well, don't pay. Linguistically that sentence sucks, but you get the idea.  
Our trial gives you immediate access to everything so you can kick our tires and figure out if this is for you.  
Are you ready?