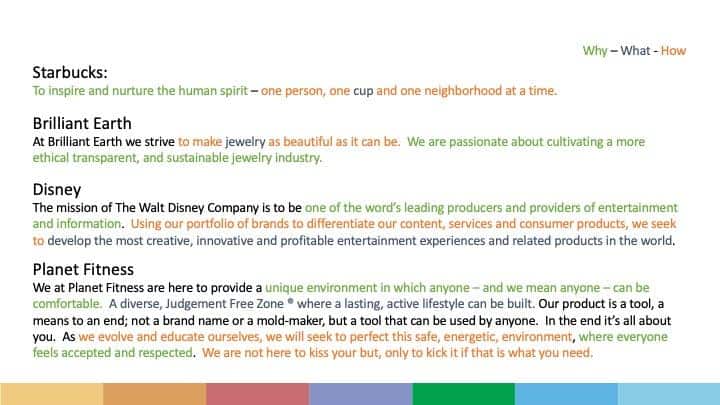 Starbucks:
To inspire and nurture the human spirit – one person, one cup, and one neighborhood at a time.
Brilliant Earth:
At Brilliant Earth, we strive to make jewelry as beautiful as it can be. We are passionate about cultivating a more ethical transparent, and sustainable jewelry industry.
Disney:
The mission of The Walt Disney Company is to be one of the world's leading producers and providers of entertainment and information. Using our portfolio of brands to differentiate our content, services, and consumer products, we seek to develop the most creative, innovative, and profitable entertainment experiences and related products in the world.
Planet Fitness:
We at Planet Fitness are here to provide a unique environment in which anyone – and we mean anyone – can be comfortable. A diverse, Judgement Free Zone ® where a lasting, active lifestyle can be built. Our product is a tool, a means to an end; not a brand name or a mold-maker, but a tool that can be used by anyone. In the end, it's all about you. As we evolve and educate ourselves, we will seek to perfect this safe, energetic, environment, where everyone feels accepted and respected. We are not here to kiss your but, only to kick it if that is what you need.